December 2, 2015 | By
Barbara Vergetis Lundin
'
More than 500 institutions representing over $3.4 trillion in assets have made some form of divestment commitment at COP21 in the first few days of the event, marking a new record for the fossil fuel divestment campaign, according to 350.org and Divest-Invest, two organizations coordinating the growing movement.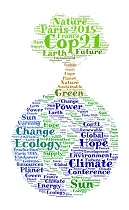 Credit: ricochet64
The announcement is a sign in the early days of the Paris Climate Summit that investors are dramatically shifting capital away from fossil fuels and towards clean, renewable energy.
The new numbers are impressive, but it important to note that the commitments vary: some are just partial divestments or apply only to a particular fossil fuel, such as coal or tar sands. Further, the $3.4 trillion represents the total amount of assets represented by institutions, not the amount of money divested, which is difficult to track due to varying degrees of disclosure.
On Monday, Bill Gates and a group of investors announced the launch of a multi-billion dollar private sector coalition to accelerate clean energy innovation. Other institutions that have joined the fossil fuel divestment campaign hope their actions can push governments to follow suit by shifting public finance from fossil fuels to climate solutions. Many are calling on governments to specifically make good on their promises to end fossil fuel subsidies and fulfill their climate finance commitments.
In September 2014, 181 institutions representing $50 billion in assets had made a divestment commitment. On September 21, during Climate Week in New York City, 350.org and Divest-Invest announced the number had jumped to 400 institutions representing $2.6 trillion under management, and launched a "Divest for Paris" initiative to garner new commitments ahead of COP21. In the 10 weeks between then and now, more than 100 institutions made new divestment commitments.
On November 25th, the French National Assembly adopted a resolution encouraging public investors, companies and local authorities not to invest in fossil fuels anymore. The resolution is the first step to formalizing the policy as law.
Since September 21, 2015, Uppsala has become the largest city in Sweden to endorse fossil fuel divestment and Münster became the first city in Germany to divest completely from fossil fuels.
Melbourne, Australia's second largest city, committed to go fossil free ahead of COP21. In fact, Australia has seen a seven-fold growth in the divestment movement, from two councils divesting in 2014, to 14 divesting currently.
Oslo, the capital of Norway, announced that it will divest its $9 billion pension fund from coal, oil and gas companies, becoming the first capital city in the world to ban investments in fossil fuels.
Dutch pension fund PFZW announced it will divest from coal companies and reduce its investments in other fossil fuel companies.
For more:
- see this report
http://www.smartgridnews.com/story/fossil-fuel-divestment-efforts-hit-high-paris/2015-12-02
© 2015 FierceMarkets, a division of Questex, LLC. All rights reserved.