December 11, 2015 | By
Barbara Vergetis Lundin
The nuclear industry said this week at the UN climate negotiations in Paris (COP21) it is committed to addressing climate change, but what are they doing about spent nuclear waste?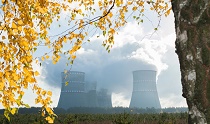 Credit: chystmaks
That is the question being asked by many, including the National Association of Regulatory Utility Commissioners (NARUC).
While Agneta Rising, director general of the World Nuclear Association, speaking at the International New York Times Energy for Tomorrow conference in Paris said, "The nuclear industry stands ready to deliver more to help tackle climate change," NARUC wonders why they are not ready to tackle a permanent solution for nuclear waste disposal.
There are currently 74,000 metric tons of commercial spent fuel at reactor sites in the United States and 2,000 tons of nuclear waste produced annually.
"Sixty-five reactors are currently under construction around the world, the highest number for 25 years," Rising said. "However rates of nuclear construction are not yet high enough to meet the expansion required to hit the IEA target. To grow faster nuclear will need markets with level playing fields, harmonized regulatory processes and an effective safety paradigm."
NARUC President Travis Kavulla of Montana addressed this issue during testimony before the United States House of Representatives Committee on Energy & Commerce Subcommittee on Environment and the Economy.
He testified that consumers would be better served through management by an independent body to which Congress gives "positive timelines and steps to that body, not ruling by the power of the purse through negations of agency acts, but directing an agency -- this new independent body -- to do specific things that are enforceable by entities like NARUC [through] courts of law so that no administration in the future can again act to drag its feet on this important issue."
Since 1982, more than $40 billion in direct payments and interest have been paid into the U.S. Nuclear Waste Fund, yet there is still no permanent solution to the problem. The lack of progress is tied directly to efforts to block funding for the geologic disposal of nuclear waste at Yucca Mountain, as well as the U.S. Department of Energy's unlawful refusal to consider the project's licensing application and closing the DOE's Office of Civilian Radioactive Waste Management, according to Kavulla's testimony.
Kavulla's testimony also points out that $4.5 billion in damages have been paid because of breach of contracts and failure to take title of used fuel -- and this will increase by $500 million a year until some action is taken.
Rising noted that nuclear energy is the second largest low-carbon electricity source in the world and that support is needed both for current nuclear plant and new nuclear technologies.
"We need to invest into development of smaller reactors that are more flexible in terms of where they can be deployed, better able to work in partnership with intermittent renewables, able to burn used fuel to reduce wastes and have the potential to be more economic," Rising said.
For more:
- see this testimony
© 2015 FierceMarkets, a division of Questex, LLC. All rights reserved.
http://www.smartgridnews.com/story/nuclear-industry-concerned-about-climate-change-what-about-nuclear-waste/2015-12-11