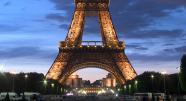 After nearly two weeks of intense negotiations, the United Nations summit on climate change has produced little in the way of surprises as the Friday deadline for a deal approaches.
At a time when the American public remains divided over whether the threat of climate change is real, there's no conversation about the scientific issues here. Instead, the debates revolve around the contentious questions of who will pick up the tab for damage caused by global warming and who will be looking over countries' shoulders as they reduce their emissions in the coming years.
They are the same questions that negotiators have been pondering and wrestling with for years.
"One can only hope they've been working through the big solutions to these problems," said Duncan Marsh, the international climate policy director at The Nature Conservancy. "There's inevitable brinksmanship happening here. It's risky because there's not a lot of time left."
Negotiators were working until 5 a.m. Thursday, according to observers who have been keeping tabs on the talks, but there was no breakthrough.
"They did not make a lot of progress last night," said Alden Meyer, director of strategy and policy for the Union of Concerned Scientists.
French Foreign Minister Laurent Fabius, who is leading the talks, is expected to propose his own draft Thursday evening, an attempt to bridge the remaining differences.
It's hard to find anyone who expects the talks to fall apart at this stage. The ghost of the Copenhagen conference in 2009, widely seen as a failure, seems to have been exorcised with careful political staging and a healthy dose of French hospitality. In addition, the summit began with environmental commitments from nearly all participants and the political backing of the world's most powerful economies.
"Neither China or the United States are going to allow these negotiations to fail," said Robert Stavins, director of the Harvard Environmental Economics Program.
U.S. Secretary of State John F. Kerry, who is here in hopes of sealing the deal, told reporters Wednesday that inaction was unthinkable.
"Unless the global community takes bold steps now to transition away from a high-carbon economy, we are facing unthinkable harm to our habitat, our infrastructure, our food production, our water supplies and potentially to life itself," he said.
However, finding consensus on the strength of those actions remains elusive. The U.S. and some of its allies at the talks are pushing for a provision that would require countries to return to the table to ratchet up their commitments.
Meanwhile, developing countries such as India want to ensure strong commitments from rich nations to provide financial support for coping with climate change and pursuing clean-energy projects.
"On the one hand, developed countries are not fulfilling their obligations, and on the other hand, they are trying to shift their responsibilities to developing countries themselves," said Shri Prakash Javadekar, an Indian government minister. "There is no indication of scaling up of finance nor a clear road map."
Environmental activists are working at the summit to keep up the pressure for the most ambitious agreement possible.
"We will get a deal. But the open question is whether it will be a weak deal or a strong deal," said Mohamed Adow, the senior climate advisor from Christian Aid.

- By Chris Megerian, Los Angeles Times