June 15, 2015 | By
Jaclyn Brandt
A new study found that "unconventional energy" development will be an important piece to the future of the U.S. economy. The report, "America's Unconventional Energy Opportunity," was conducted by the Harvard Business School and Boston Consulting Group (BCG). It looked at the overall energy system in the United States and how new innovation would change the country.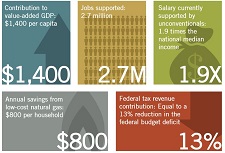 The economic impacts of U.S. unconventionals in 2014. Credit: Harvard Business School
The report found that energy development in the United States in 2014 contributed $430 billion to the United States economy, supported 2.7 million jobs, and saved each household an average of $800.
BCG believes that "unconventional gas-and-oil resources" may be "the single largest opportunity to improve the trajectory of the U.S. economy, at a time when the prospects for the average American are weaker than we have experienced in generations." The report defines "unconventionals" as shale gas and oil resources as well as tight gas and oil resources.
"America's new energy abundance can not only help restore U.S. competitiveness but can also create geopolitical advantages for America," BCG said in a statement. "These benefits can be achieved while substantially mitigating local environmental impact and speeding up the transition to a cleaner-energy future that is both practical and affordable."
The report found that the United States economy is reliant on an outdated infrastructure, and that no one is addressing the growing weaknesses. BCG said that the country's gas and oil resources are "a once-in-a-generation opportunity to change the nation's economic and energy trajectory," because the U.S. currently has an advantage in the global energy industry -- due to wholesale natural gas prices being lower than other major export nations. This puts the U.S. at a 10- to 15-year head start, according to the group.
However, BCG said public support has not risen for alternative energy sources, despite the facts. The project was launched to help increase awareness of energy in the United States, and the report set 11 goals to develop a shared fact base, engage the key stakeholders, and advance a shared agenda for developing America's unconventional gas-and-oil resources in a way that addresses the key objectives of all the stakeholders, including:
Continuing the timely development of efficient energy infrastructure
Delivering a skilled workforce
Eliminating outdated restrictions on gas and oil exports
Developing transparent and consistent environmental performance data
Setting robust regulatory standards
Achieving universal regulatory compliance
Strengthening bodies driving continuous environmental improvement
Containing methane leakage
Setting policies that encourage cost-effective emissions reductions
Fostering clean-energy technologies
And building out a smart, efficient energy grid
The report found that for the support of the growth of "unconventionals," the United States must upgrade its infrastructure -- including $200 billion by the oil and gas industry by 2025.
For more:
- read the full report
© 2015 FierceMarkets, a division of Questex Media Group LLC. All rights reserved.
http://www.fierceenergy.com/story/making-case-energy-unconventionals/2015-06-15