November 20, 2015 | By
Barbara Vergetis Lundin
Submarine electricity transmission systems are increasingly being used for both long and short hauls in undersea, lake, and river interconnection projects globally, such as in the Hudson River in New York or for connecting offshore wind farms across Europe.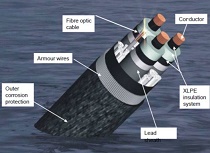 Co-Axial HVDC Submarine Power Cable. Credit: Subsea Cables UK
As with overhead and underground systems, many systems are moving toward high-voltage direct current (HVDC) technology and away from the historically prevalent alternating current (AC) technology.
In fact, according to Navigant Research, the global submarine electricity transmission market is expected to grow from $16.8 billion in 2015 to $24.8 billion in 2024, with total revenues of nearly $230 billion from 2015 to 2024.
The market for HVDC and high-voltage alternating current (HVAC) submarine electricity transmission systems is large and highly specialized and has grown substantially in recent years, as the need for connections between regional generation resources and city infrastructure increases.
Navigant analysis of existing and planned systems indicates that the submarine transmission industry will continue to experience substantial growth for years to come. In Europe, for example, the transmission system requires extensive reconfiguration and expansion to deal with coal and nuclear generation plant retirements and the rapid growth of offshore and onshore wind generation in the Nordic region, as well as other remote offshore areas.
The European market will likely account for more than half of the global submarine cable projects over the next decade, according to Navigant.
"One of the major drivers today for submarine cable projects is connecting offshore power generation to electrical grids located on the mainland," said James McCray, senior research analyst with Navigant Research. "While these projects today and in the near future will mostly involve offshore wind farms, other more exotic renewable generation resources like tidal and wave power generation may also become part of the generation mix down the road."
Submarine electricity transmission projects face a myriad of international, regional, and national regulations, sometimes with hundreds of permits involved, according to Navigant. However, significant pushback is occurring, and it is expected that governments will attempt to streamline permitting and approval processes in coming years.
For more:
- see this article
© 2015 FierceMarkets, a division of Questex, LLC. All rights reserved.
http://www.smartgridnews.com/story/sea-more-exotic-renewables-becoming-part-submarine-electricity-mix/2015-11-20