November 25, 2015 | By
Barbara Vergetis Lundin
Trump says "build a wall." But could the key to curbing immigration be hidden in decentralized technology like fuel cells?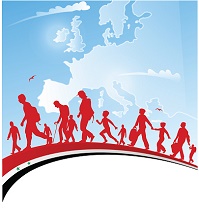 Credit: doomko
Next-generation fuel cells are ready for low-emission electricity production and could even be one of the keys to addressing the migrations of masses of populations from one country to another, according to VTT Technical Research Centre of Finland Ltd., who, under the INNO-SOFC (solid oxide fuel cell) project, is developing a new-generation, long-life fuel cell system offering efficiency higher than that of competing technologies.
Energy production faces challenges posed by the requirements to produce electricity and heat by increasingly efficient and cleaner means. By using solid oxide fuel cells, energy is made out of fuel and air. The project will result in new, energy-efficient and commercially viable applications, VTT says.
VTT contends that people migrate to other countries when they do not have hope for prosperity in their own countries -- and that prosperity can be increased quickly through implementation of low-cost decentralized technologies like local renewable energy from solar, wind and mobile factories that enable production anywhere, as well as text-based banking and Web-based education platforms.
Decentralized technologies can enable local production by local people using local materials to be set up quickly and cheaply. For example, moveable factories can be fabricated and delivered in a few months. They can be used for a wide range of production from agricultural processing to assembly of consumer goods. Using established industrial engineering techniques, world class production can be set-up quickly with workforces that do not already have necessary production skills. In addition to local production, decentralized technologies can facilitate more highly distributed innovation and entrepreneurship.
The relatively small size and versatile mobility of decentralized technologies means they can be used wherever people are, including home countries and temporary settlements, according to VTT; therefore, decentralized technologies can be used immediately to reduce the causes of mass migration.
Another decentralized technology studied by VTT, fuel cells are used to generate low-emission electricity and heat. Thus far, the adoption of such systems into widespread use has been stymied by their short service life and high price. These factors are the key development areas of the INNO-SOFC project, which is funded by the EU and managed by VTT. The goal is to double the service life and halve the cost of fuel cell systems.
The most notable advantage compared with existing fuel cell technologies is the possibility of using conventional fuels, such as natural gas, diesel fuel and biogas, instead of pure oxygen. The fuel, and the oxygen present in the air, injected into the fuel cell, produce a direct electrochemical reaction in the fuel cell, generating electricity and heat.
VTT will develop a 50 kW fuel cell system that will have an efficiency of 60 percent for electricity production and a total efficiency of 85 percent. The new fuel cell system will generate normal alternating current and will be available for use in several different applications. Fuel cells can be used to generate electricity and heat from methane produced by biomass at wastewater treatment and biogas plants. In addition to biogas, the distribution of LNG (liquefied natural gas) will enable the use of fuel cell systems outside the current gas network.
Compared with competing systems, for example generators powered by a combustion engine, fuel cell systems exhibit a high efficiency level, low emissions, low noise and low vibration levels. Improved efficiency is especially pronounced in applications smaller than 1,000 kW in power, in which fuel cells may exhibit an efficiency double that of competing technologies and produce CO2 emissions that are correspondingly lower. Other emissions, such as particles, nitrogen oxides and noise, also remain at very low levels.
This project, which launched in September 2015, is scheduled for completion in April 2018.
For more:
- visit this website
© 2015 FierceMarkets, a division of Questex, LLC. All rights reserved.
http://www.smartgridnews.com/story/immigration-crisis-forget-wall-could-fuel-cells-be-answer/2015-11-25